ABC Information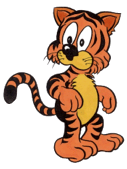 The ABC Club is a nonprofit parent booster organization that works closely with the staff and families of Newton Falls Elementary. ABC helps to provide the students with the best educational experience possible by providing volunteers for many events. ABC also helps with the purchasing of products the school needs.
---
2016-2017 ABC Officers
President - Christene Stinson

Vice President - Jessi Carigilio-Pigg

Secretary - Julie Dunlap

Treasurer -Yvonne Dillon
---
ABC Club Meeting Schedule
Meetings are held at 6:00 PM on the second Tuesday of each month.
---
Current Newsletter
Click here to read the current ABC Newsletter
---
Box Tops, Campbells Labels, and Giant Eagle
Remember to cut your Box Tops and Campbells labels and send them into school. There is a new way to cut the Campbells labels. Now you are to cut the UPC code with the reminder guy next to it.

The Giant Eagle Apples for the Students Program starts in October and will run through March. If you have already registered your card you do not need to do so again this year. If you do need to register go to www.gianteagle.com and register with our school ID# 0027.